COCA-COLA CHRISTMAS TOUR 2017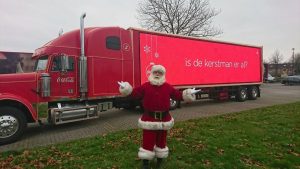 Commissioned by Start the Chase and Coca-Cola Nederland, we provided Santa Claus for the second year in a row. During the Magical Christmas tour throughout the Netherlands you could find our Santa at the Christmas truck.
Christmas heroes in spotlight during Magical Christmas tour. During this magical Christmas tour Coca-Cola puts Christmas heroes in the spotlight. The "illuminated" Christmas truck from Coca-Cola is perhaps the symbol for Christmas. Every year the world famous truck from the classic Coca-Cola commercial appears on television to celebrate the Christmas season. This year the truck did not just pass by on television, but also in many places in the Netherlands.
The Coca-Cola Christmas truck, the real Santa Claus and his Christmas elves were in action from December 6 to December 24 and can be found in many places in the Netherlands. The Christmas truck is equipped with a huge Led panel on which you can thank your own Christmas hero with your own text message.
Need Christmas entertainment or the real Santa Claus next year?
Call us for the possibilities without obligation on telephone number: 0297-521919.