Michel Rahn (1969) is  Jack of all trades and creative mind in heart and sole.
He advises and coaches various people in major businesses.
Practical experience on stage and behind the scenes, Michel has plenty of it.
Immediately after high school he came to the theater. After a few years theater period and a number of wanderings he ended up in the television scene.
He worked for the Dutch television production teams of the Sound-mix shows, Postcodelotterie and the comic shows of André van Duin. But Michel wanted more……… He went to his boss (Joop van den Ende) and asked him if he could host a TV Program. Michel hosted various live television programs for Dutch media company's Veronica and RTL 4, and in the Aalsmeer television studios, he frequently performed as a host for the audience (doing the public warming-up) before starting the TV shows.
Michel crawled into the skin of a Puppet called Snuitje. He was the voice-over and puppeteer, for the immense popular Mini-Playbackshows (see photo entry on the right). Michel performed for three seasons in the theater musical production of Barcelona (Wentink Events).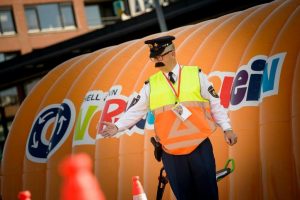 Michel lent his voice to the Big E-Award winning Efteling Fairytail Show show in 2003 for the Efteling. During the season 2005 – 2007 he was seen as Jelle de Jutter (Jelle the Beachcomber) in the Dolfinarium in Harderwijk. He also performed on popular children's channel's like Zapp and Nickelodeon.
However over the years he has presented many other things, some on TV and some on radio.
At this moment, Michel is for Shell and Safe Traffic Netherlands the awkward police-officer Joss van Uppelschoten.
Michel is the founder and co-owner of Nhar Entertainment VOF, Improvisation actors company.
Call for more information or bookings with Improvisation actors company on telephone number:+31(0)297-521919.