Hire our servile butlers Jaap Joop and Joep.
With Jaap, Joop and Joep you have the perfect butlers at home, unless your event takes place outside.
Whether they related to each other, the question is only at the end of the night you know.
They contribute to it to make the day a carefree and memorable event! Dressed in a Jaquet with neat black or colored bow they meet to the image of the ideal son in law. Their in fact resourceful butlers of the old school.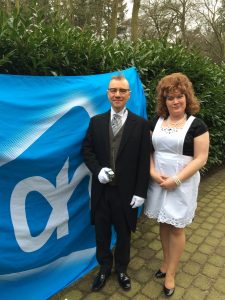 Wacky waiters Jaap and Joep can not imagine they ever thought they could get it without Joop! Still need more help? Also sisters Janny and Jenny and Henny can work together with these butlers. (or are you looking for a Liveried butler?)
Their butler outfit they surprise many people and take the work they do very seriously. Absurd looking (due to their teeth), but exquisite in their service these butlers should not be missing from your desk.
Jaap, Joop and Joep, suitable for many occasions, from serious scholarship work, A(k)wards banquets, cocktail hours, Christmas parties, corporate sales meetings, a wedding or a frivolous party. And of course everything in between. Any event that you want to produce will be fun and memorable.
Call for Wacky Butlers Jaap, Joop and Joep!
Call for more information about Jaap, Joop and Joep: ImprovisationActors by phone: +31(0)297-521919 or send us an E-mail.