Stan Irwin (actor :Michel Rahn) visits Royal van Zanten.
From Tuesday 14th to Friday 17th June 2017, Royal van Zanten presented a wide range of novelties and creative concepts during the annually returning FlowerTrials. Together with companies Danziger, Morel and Horteve, Royal van Zanten attracted a record number of visitors.
During this FlowerTrials actor Michel crouched into the skin of Stan Irwin. (brother of the famous deceased Australian Steve Irwin) Steve Irwin was famous for his animals and brother Stan has sought his luck in breeding plants. Especially the pot chrysanthemum FireWorks. The goal of Royal van Zanten, with this actor,  was to create interaction and get people interested in the FireWorks Chrysanthemum.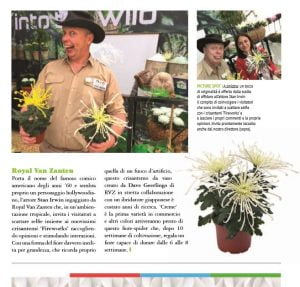 Visitors of the FlowerTrials received the story of Stan Irwin about breeding the Chrysanthemum's bloom and were invited to make a selfie with the Fireworks Flower.
Even the international press made several story's off Stan Irwin appearing on the FlowerTrials 2017. (see photo on the right)
Do you also need an actor or actress to bring your product to attention on your exhibition?
Call us now at telephone number: +31 297 521919.